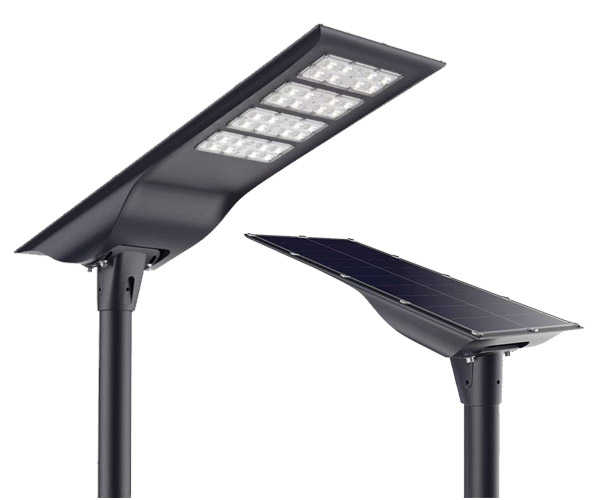 SSL-E2 All In One Solar Street Light
The new product with all in one design
The installation angle can be adjusted.
High class integrated die-casting aluminum alloy case - Over IK08 Rating.
Get a free quotation!
Why many contractors choose
SSL-E2 All In One Solar Street Light
The SSL-E2 all in one solar street light is a complete new kind of solar light for road lighting. It features that all of its components fully integrated within a compact design, long lifespan, no electricity cost, easy to install and maintenance. Each of them has passed CE, IP65, and ROHS test, and can easily overcome the challenges of harsh environments. It is widely used on highways, roadways, rural roads, neighborhood streets, construction sites, and other outdoor public areas.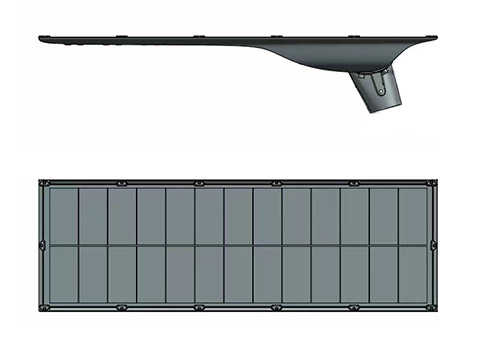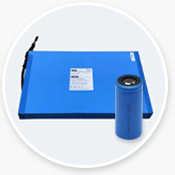 1. +10 Years Lifespan LiFePO4 Battery (Multiple Protection Measures)
High quality LiFePO4 battery cells, safe and stable. Multiple battery protection technology allows the lamp working under high temperature safely.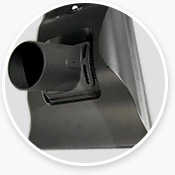 2. The installation angle can be adjusted
It can flexibly adjust the percentage of lighting power according to special requirements.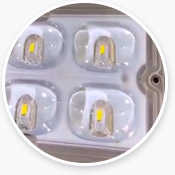 3. Superior Light Source (Lumen reach up to 170lm/w)
+100,000 hours long lifetime of CREE5050 LED chips, the Luminous efficiency can reach up to 170lm/w.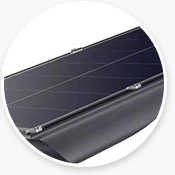 4. High Efficient Monocrystalline Solar Panel
Polybrite Mono crystalline solar panels with over 20% high conversion efficiency and 25 years lifetime are tested and approved by world well-knowned laboratories.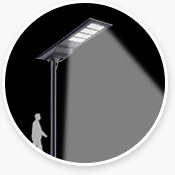 6. Intelligent Lighting mode: Motion sensor
When detection movements around the solar road light, the built-in motion sensor will automatcially regulates the brightness of the lamp to full, when non detection, the light will regulates the brightness to a lower level to save energy.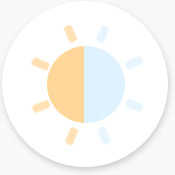 7. Color temperature can be customized
Color temperature can be customized: 2700k-6500k, with light source color is optional: cold whith and warm white.
Polybrite solar street lights have been widely
used in lighting projects in over 100 countries and areas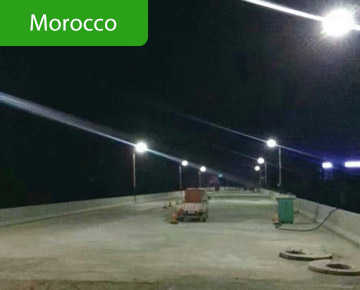 Highway Lighting Project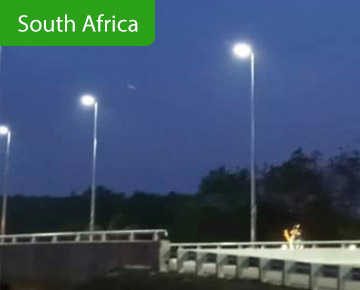 Bridge Traffic Lighting Project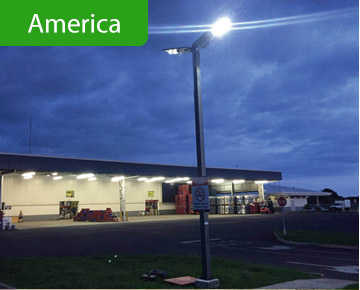 Government Solar Lighting Project
Wide range available: 30W, 40W, 60Watt!
30W, 40W, 60W

| Model | SSL-E2 All In One Solar Street Light |
| --- | --- |
| LED | 30-60w with CREE5050 LED chips, 160-170LM/W, 6000K ~6500K (customized 3000k-7000k) |
| Solar Panel | 50w-70w High Efficiency Monocrystalline Silicon |
| Battery | Inbuilt LIFEPO4 Battery |
| Mounting Height | 4-8m |
| Intelligent Light Mode | Time control + Light control + Motion sensor(optional) |
| Solar Charging Time | 6 hours by bright sunlight |
| Back Up | 3 - 7 Cloudy/Rainy days |
| Material | High Class Aluminum |
| Certificate | CE / ROHS / IP65 |
Can not find the specs meet your demand? Click to get your tailored solution!
Click Now
How to work?
Motion Sensor for Energy Saving!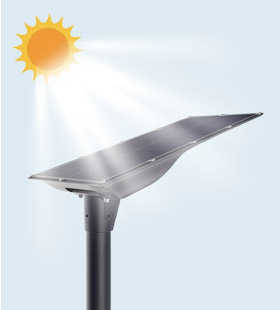 Light switch auto-off for sun charging in daytime and it will gradually auto turn on bright at night;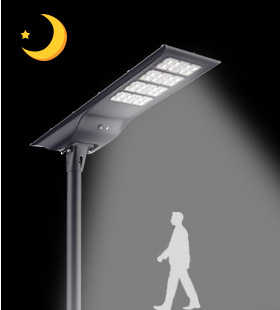 When people walk into the sensing range, the light can work full power;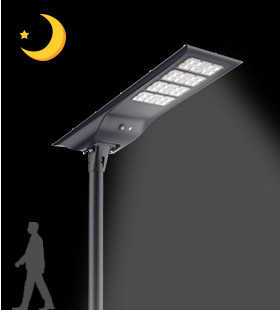 When people walk out of the range, the light can dim to certain power as required;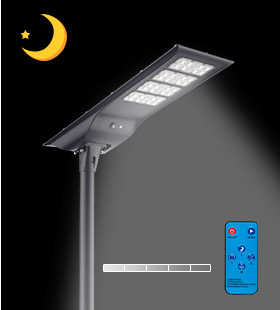 It can flexibly adjust the percentage of lighting power according to special requirements.
How to install?
Easy to install!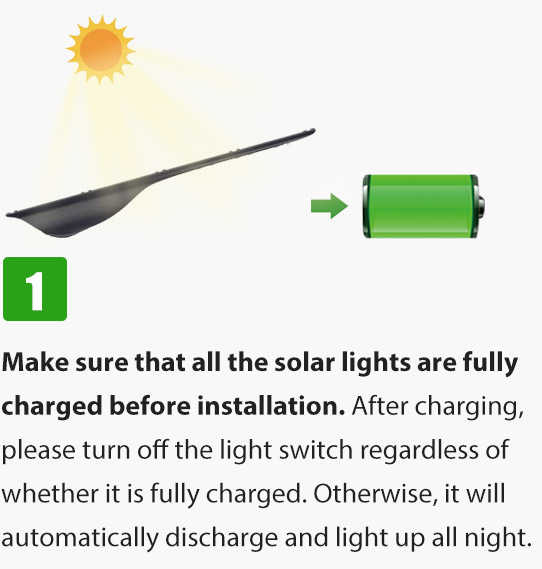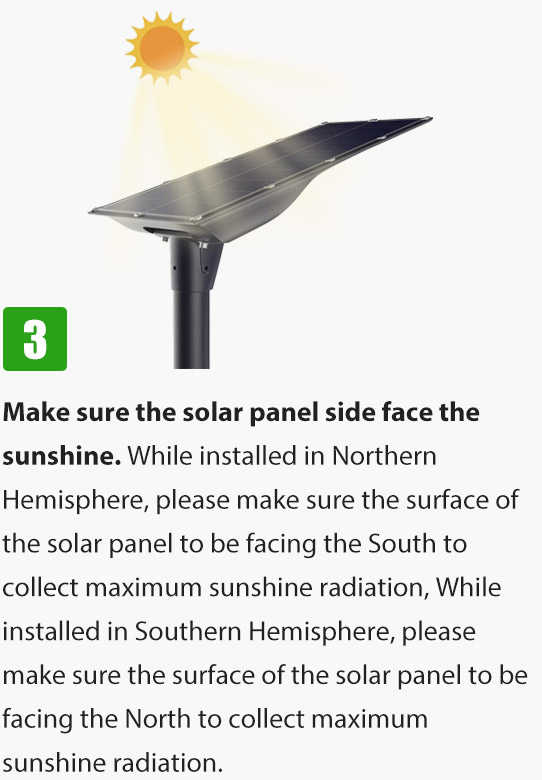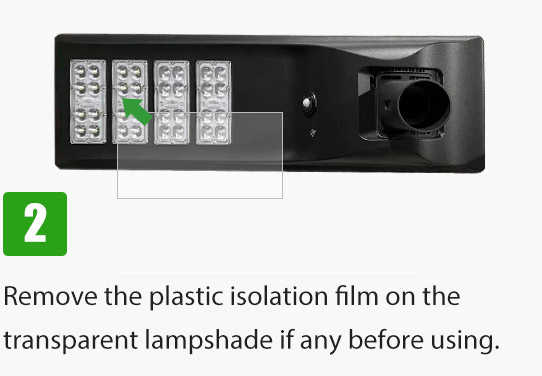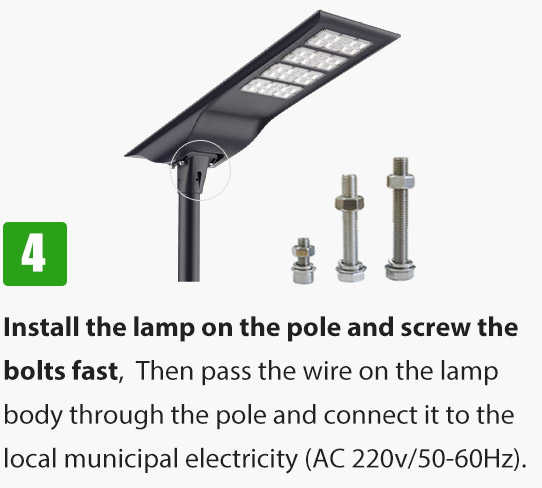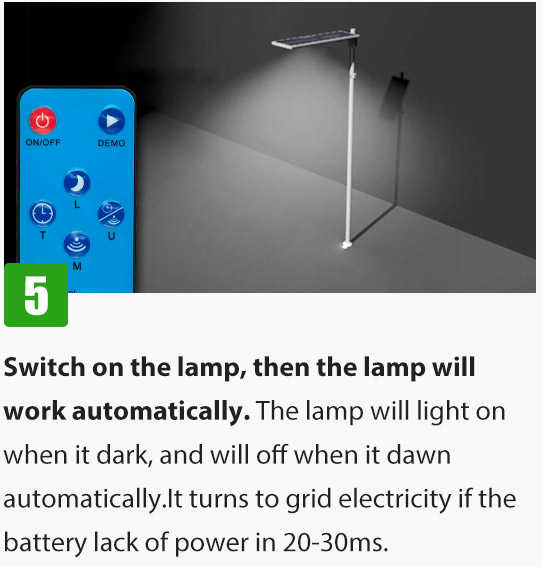 Feedback from our esteemed Clients
Malaysia Client:
Ok, with u good support, I will try to promote same more with my solar lighting project in Malaysia.
Solomon island Client:
Carpark and front gate as bright as day. Solar street lights enhancing the safety of our evening classes.
Manila Philippine Client:
Dear look so beautiful, I will lost down how many we need and re order. Special thanks to us, for donating additional lights for us. If you need high-quality solar-powered lights, you may visit their store online.
Malaysia Client:
Thanks my friend, our boss love ur product so much.
What Should I do, if Start a New Solar Lighting Project?
If you want to start a new solar lighting project, collect informations, and contact us, then you'll get a prefect lighting solution.
Click Now
Which city wil you install the solar street lights?
Road width & road length?
What type of road? Highway, national or suburb or park road?
How many hours of the solar light per day required?
How many continued days lighting without sunshine?
If retrofit lighting, what's the existing light type and power?
Have the site photo?
Any other special requirement of the project?