4th Generation solar road studs Model D-143 on sale
Post time: 2022-06-16 14:59:09
4th Generation solar road studs Model D-143 on sale
Solar road stud, also known as solar pavement levelled marker, is a kind of traffic warning and guidance equipment. Embedded solar led road stud plays an important role in traffic safety and fast. Practical application shows that the use of solar led road stud can reduce the accident rate and reduce the probability of driving route error.
PolyBrite 4 generations of round solar road studs

Solar Road Stud Model
We launched Model D-143 this month. Till now, we have 4 generations of round solar road studs as below:
1st Generation: 613 model, Ni-MH battery, IP67; (discontinued)
2nd Generation: 612 model, upgraded to LiFePO4 battery, IP68;
3rd Generation: 619 model, size:125mm dia. * 48mm depth, upgraded to 800 meters visual distance, 30 tons of compression, added 4 auxiliary installation clips. Suitable for areas with less than 5 consecutive cloudy and rainy days.
4th Generation: D-143 model, bigger size:143mm dia. *47mm depth, which improves the charging efficiency of solar panels by 50%. Excellent performance in continuous rainy days and rainy seasons.
The highlights of the Model D -143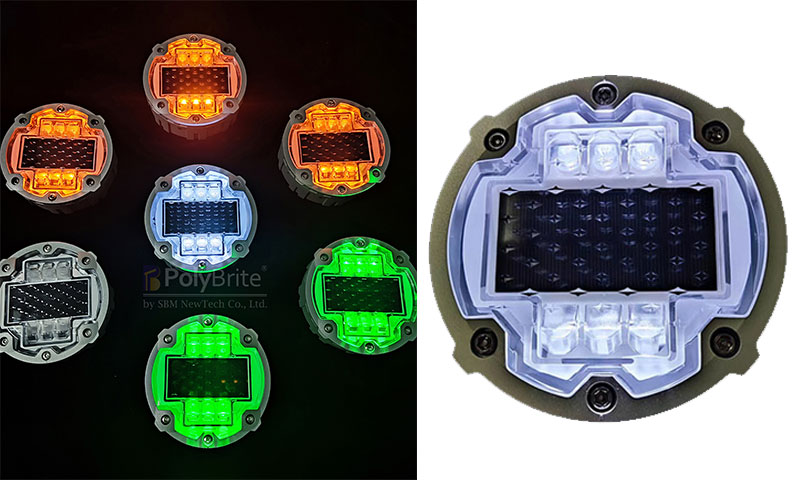 Solar Road Stud Model D-143
1. More rainy days backup: Bigger solar panel and high light transmittance diamond-shaped anti-skid pattern design bring 50% increase in charging efficiency.
2. More safe:6pcs stainless Steel safety locks.
3. >800 meters visual distance: Better light-emitting angle (30 degrees Gradient on LED sides) and high-brightness LED chips, bringing a greater visual distance.
4. >30T pressure resistance: die-casting aluminum alloy body with transparent polycarbonate top. Sturdy and wear-resistant.
5. IP68 waterproof.
6. Outstanding performance, especially in areas with many consecutive rainy days and prolonged rainy seasons.
7. Easy installation and more smooth road surface, best choice for highways, logistics parks, major roads, etc.
8. A variety of colors are available: yellow, blue, white, red, green.
Project cases: (Model:612/613/619)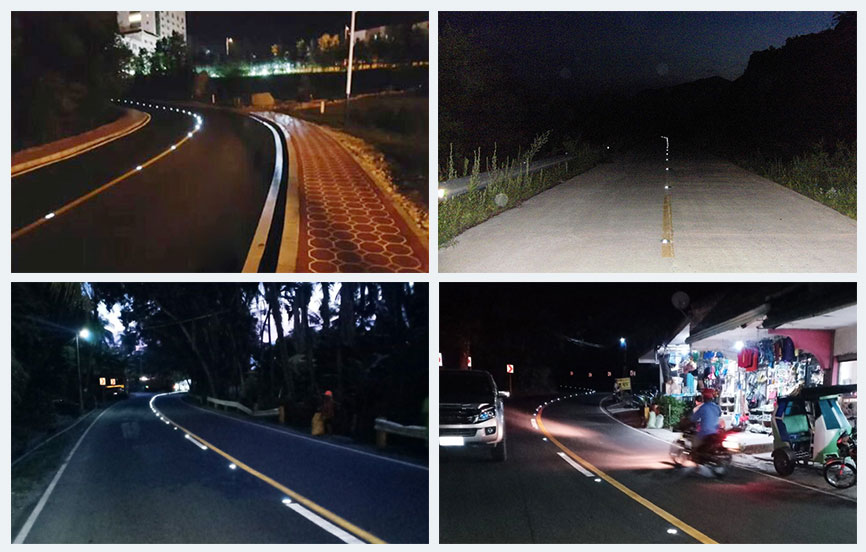 Let's summarize: If there's a long rainy season or more than 5 consecutive rainy days in your location, please choose D-143 model. Otherwise, you can choose Model 619 or Model D-143.
Related Products of Solar Road Stud
Round solar road stud (model: 612/619)
Solar Pavement Levelled Marker/Solar Road Stud (Model: D-143)
Polybrite Solar Street Lighting Projects Applied in Many Countries
Integrated Solar Street Lights – Your Common Questions Answered