Polybrite Solar Street Lighting Projects Applied in Many Countries
Post time: 2022-06-15 16:01:53
Polybrite Solar Street Lighting Projects Applied in Many Countries
We, PolyBrite have participated in many solar street lighting projects all over the world. These projects feature different style fixtures for illuminating streets, roadways, highways, and pathways. Our systems are sized for a minimum of more than five days autonomy and require no connection to the electric grid. As demonstrated in thousands of existing projects worldwide, our proven solar street light systems feature rugged commercial-grade construction combined with unsurpassed quality, performance, reliability, and the value of 25+ year system life expectancy - all backed by the best warranty in the business.
Why we need solar lights for Street?
One of the largest reasons why municipalities choose solar for their street lighting is because of how much of a nuisance construction can be, especially if lights are previously installed in the area.
Imagine installing a full set of 30 grid-tie lights down sidewalks. That wouldn't be practical for foot or auto traffic. It may require permits and permission from residents down the street to dig into their yards just to replace necessary lighting. Road closures may have to happen.
That's not the case with solar. A single solar light can be assembled and installed in less than two hours. No road closures, blocked-off construction sites, or loud drills in the morning. Here's an example of a street lighting project that saved several thousands of dollars and kept the community's grounds intact.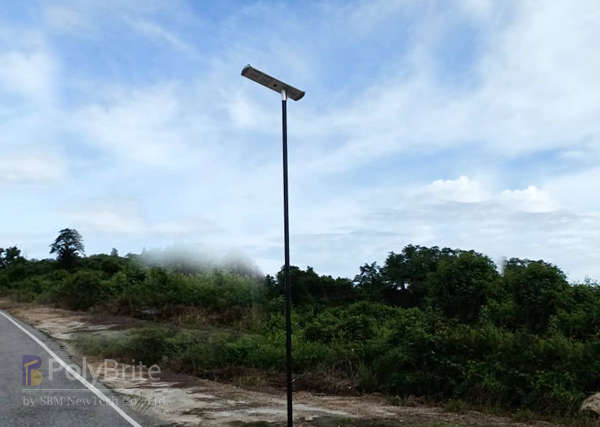 The client was from Kelang Malaysia. He need a high-quality solar street light which has high brightness and can work 12hrs per night for his road lighting projects.After digging more info about the client demand, and the surroundings of the project location, we recommend our 80w to the client.To verify the lights brightness and real lighting time, the client take one sample first and install the light under a camera to record the whole night performance. Read More
The Malaysian customer installed a batch of solar garden lights for public parks. This is a government project. The government has very high quality requirements for the lights. Therefore, the customer has been preparing for this project since April. After shopping around, the customer finally chose Polybrite. Read More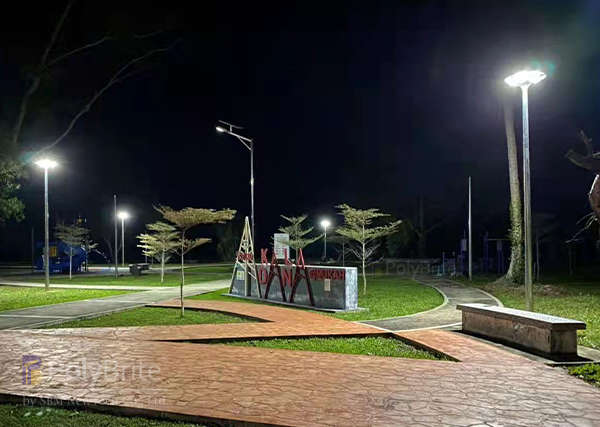 122 sets of 60w solar street lights provided by SBM NEWTECH were installed on the side of roads in the estate in Abuja, Nigeria.Before the installation of solar street lights, the entire road was shrouded in darkness, which was very inconvenient for people to pass. Due to the darkness, accidents often happened at night. In consideration of people's safety, the customer decided to install street lights. In order to save energy and protect the environment, solar street light is the best choice. After testing and comparison, the customer finally chose polybrite street lights. read more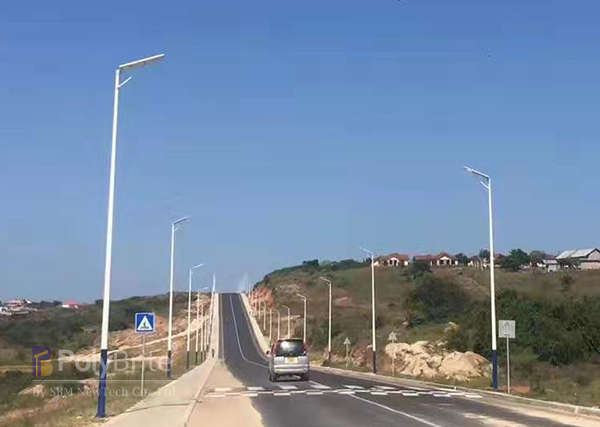 AC/DC hybrid all in one solar street lights 40w &100w installed in Philippines
The client was from Philippines, he want to replace the current lights that not very bright at night. he came to Polybrite and shared his experience and requirements with us. The client repeatedly emphasis that he needs a real high-quality 130W solar street light for his projects. because last batch he bought from other supplier only write 130w but the brightness not good at all.We sent our specs and project case for 130W split solar street light illumination at night, which impressed the client a lot. read more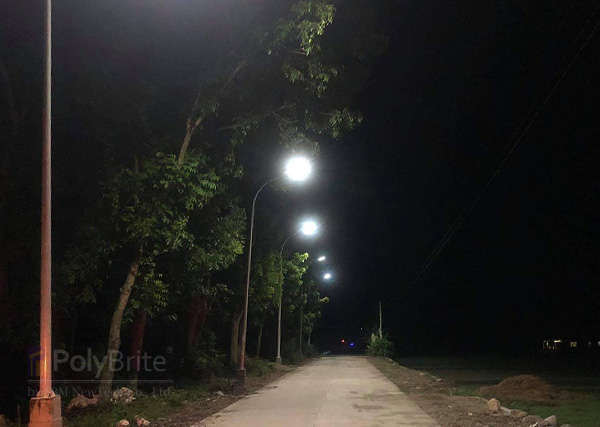 What should consider of Solar Street Light Project Proposal?
4th Generation solar road studs Model D-143 on sale