How to Maintain Integrated Solar Street Lights?
Post time: 2021-10-14 09:06:46
How to Maintain Integrated Solar Street Lights?
Solar street lights are favored by more people these days. The clean and energy-saving solar energy reduced the pressure of non-renewable energy shortage such as coal. The solar power help save a lot of electricity bills. Not only in villages, they can also be seen in cities. The solar street lamps can achieve the same lighting effect compared to conventional street light. Maintenance of solar street lamps is the most concerned. If the installed solar street lamp is not properly maintained, new lights are needed which increased the costs. Things to note when maintaining solar street lamp are introduced in this article.
Compared with traditional street lights, the maintenance of solar street lamps is relatively simple. As long as they are checked regularly, there will be basically no problems. Some simple maintenance such as regular cleaning of solar panels can be solved by yourself. If it is some complicated maintenance, you still need to find a professional solar street lamp manufacturer.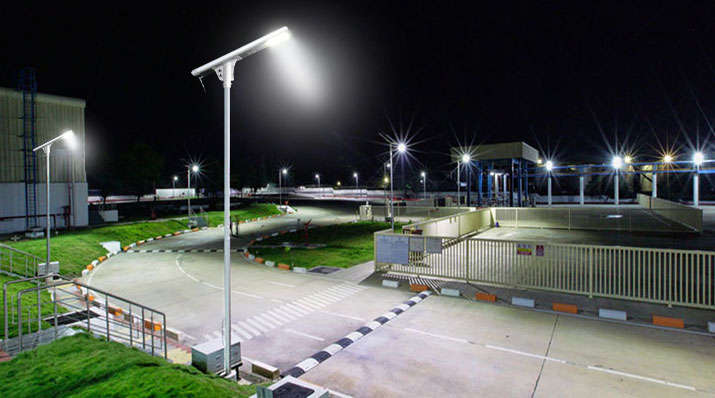 How to Maintain Integrated Solar Street Lights?
Remove dust from Solar street light Panels
The influence of dust is mainly directly can be seen on the solar panels, because the dust will mainly affect the solar panels' absorption of sunlight radiation, thus affecting the solar panels' power generation efficiency. Normally, daily regular cleaning is no need because rainwater washes away the dust attached to solar panels on rainy days, but in some particularly arid environments or regions, rainwater is very few. Users can clean the solar panels regularly according to the actual situation, such as once a quarter, or once a year, depending on the rain and dust conditions of the installation site.
Pay attention to bad weather
Under normal circumstances, after the installation of solar street lamps, basically no maintenance is required. However, there are severe weather such as heavy rains and typhoons in summer, so after heavy rains, check the tightness of light poles, lamp holders, and batteries to prevent water ingress or cracking. Exposure to the sun in summer and sudden cold in winter also have a little effect on solar street lamps. If exposed to the sun for a long time, the solar street lamps also need to be inspected and maintained regularly. In addition, there are strong winds and heavy rains in summer, and sometimes lightning strikes occur. The best way is to install lightning protection devices.
Use matching accessories
The replaced solar street lamp components must be matched with the original system, which includes two aspects. The first is to match the quality, and the other is the matching of technical parameters, including the matching of the lithium battery capacity, and the matching of the solar street lamp controller. Don't blindly replace it yourself, so as not to cause greater losses.
Rechargeable battery
The battery is the core of the solar street lamp. In summer, there are strong winds and heavy rains. Check whether the battery has water ingress, and do a good job of anti-theft of the battery. If the battery is corroded due to water entering, it is likely that the solar street lamp will not work properly. You may need tools to disassemble the battery box and check for white dust on the battery or case. Corrosion can usually be removed with a soft brush or fine sandpaper. If the battery is corroded severely, the battery needs to be replaced. Under normal circumstances, the best-performing lithium iron phosphate battery has a service life of 5 years. The maintenance of the battery is very important, and its performance directly affects the service life of the solar street light.
Clean up in the winter rainy season
In some countries, winter snowfalls very long and heavy, or some lamps are installed near tall trees. Snow, leaves and bird droppings may be attached to solar panels. When there is a decrease in power generation efficiency, such as a decrease in the number of continuous rainy days or a shorter light-on time, which reminders they need to be cleaned up.
Check the connections and wires
You should check for any possible damaged wires and broken connections every 3 to 6 months. Following this step will significantly increase the life span of your solar street light. Do a detailed analysis of the wires and if you spot any irregularity or problem in the wires, change them before a little problem shuts down the whole system.
All in one solar LED street lights also named integrated solar street light use sunlight as their main energy source, so they can be installed as long as there is sufficient sunlight, and they are also called green products due to their advantages of no pollution. In addition, the integrated solar LED street light is a new energy street light designed with an efficient lighting source, and has the characteristics of high brightness, easy installation, stable and reliable operation, no cable installation, no consumption of conventional energy, and long service life.
Saving energy and money with solar street lights
Suggestions for investing in solar street lights